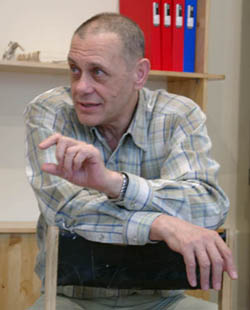 Garri Bardin was born in 1941 in the city of Orenburg. After the graduation from V.I.Nemirovich-Danchenko Drama School under M.Gorky MKHAT USSR he worked as actor in Gogol Theater, was in the films.

In the year 1974 he composed jointly with V.Livanov a play "Don Juan" and was invited by Sergei Obraztsov to Moscow Puppet Theater as a producer. In the year 1975 Garri Bardin started to work as an animated cartoon director at "Soyuzmultfilm" Studios where he made 15 films within 15 years, that earned him many prizes both at home and abroad. His films have won him three "Nica" awards, "Golden Olive-Branch" of the Cannes Festival and many other most prestigious prizes from around the world.

In the year 1999 Garri Bardin was honored with the State Prize of the Russian Federation.

Garri Bardin owes his recognition and success to a variety of techniques and materials used such as: matches in "Conflict", ropes in "Marriage", wire in "Freaks", or origami in one of his recent films "Adagio". Besides, the author makes use of traditional puppets and plasticine as well.